Introduction
The real estate industry is divided into four subsectors: housing, retail, hospitality, and commercial. The high growth of the real estate sector in recent decades has been attributed to the expansion of the corporate environment, as there is a demand for office space and urban and semi-urban accommodations. As per sources, 2022 residential space is expected to record high investments. The housing sector alone is expected to contribute around 11 per cent to India's GDP by 2020.
The real estate sector in India is expected to reach US$ 1 trillion in market size by 2030, up from US$ 200 billion in 2021 and contribute 13% to the country's GDP by 2025 "(source)
Residential Real Estate Scenario
During the forecast period, 2022-2027, India's residential real estate market is expected to grow at a CAGR of more than 5%. Housing sales in 2019 saw a modest 4-5% annual growth, with over 2.58 lakh homes sold during the year. According to the surveys and assessments, the pandemic had caused a severe financial crunch for real estate developers. The average property values in recent months had increased exponentially in India's key residential markets. Residential real estate in India is classified as per the type of investments used in certain cities.
– Residential property demand has increased due to increased urbanisation and rising household income. India is one of the top ten fastest-rising housing markets in the world.
– As per sources, between July 2021 and September 2021, 55,907 new housing units were sold in India's eight micro markets (59% YoY growth).
– In the third quarter of 2021 (between July and September 2021), the new housing supply stood at 65,211 units, up 228 per cent year on year across the top eight cities from the third quarter of 2020.
– The RBI announced in October 2021 that the benchmark interest rate would remain at 4%, significantly boosting the country's real estate sector. The low home loan interest rate regime is expected to drive housing demand and increase sales by 35-40% during the 2021-22 holiday season.
– Relaxation of Extra Commercial Borrowing (ECB) Guidelines: ECB guidelines will be relaxed to facilitate the financing of the eligible housing sector under Pradhan Mantri Awas Yojana (PMAY) in consultation with RBI.
Let us explore several real estate types, as there is a multitude of options available to get involved in real estate investing, which are as follows:
Different Types of Real estate Investments
1. Residential real estate investments
It is a widely known investment in the real estate sector. It is one of the most common types of investment in the asset class, which holds housing or rental activities for households and families. You may or may not know about many different types of residential real estate investments, from micro-flipping to accessory dwelling units (ADUs). Let us explore some types of residential real estate investment:
Long-term rental property is a rental property brought to rent to the tenants. Individual houses or private dwellings can be owned or leased by single families.
Dormitories are another residential investment that offers sleeping accommodations to individual members.
Apartments or flats are big buildings with separate dwellings for different families.
Microflipping is a kind of investment made to buy homes sold at a lesser value than their potential market value and quickly resell them without much repairing work.
2. Commercial real estate
It refers to real estate investments that are non-residential. Hotels, offices, and restaurants come under commercial real estate. With commercial real estate investments, you can yield higher returns.
3. Land
It refers to real estate with no infrastructural development. It means it consists of a property with no buildings, paths, crops, etc. It, however, gives multiple options to dispose of the raw land or opt for leasing options.
4. REIT
Real estate trust investments operate as trusts that oversee several real estate investments. REITs are considered to be passive investments that help to generate income from properties. In a nutshell, REITs help to diversify your portfolio and maintain high liquidity.
5. Industrial real estate
Industrial real estate is used for industrial purposes like warehouses, manufacturing units, and more.
Did you know?

In India, the real estate sector is the second highest employment sector after agriculture.  This residential real estate report will discuss how the booming residential sector is performing and how it is expected to prosper in the upcoming years.
What is the best type of residential real estate?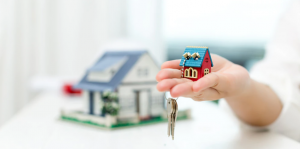 The best residential real estate investment type may vary depending on our goals, market area, and investing strategy. While many investors would expect a straightforward answer, it is likely to rely more upon the key factors when choosing the investment options, weighing the pros and cons and investment returns. Several investors working in more mature markets are more likely to invest in residential properties.
 Assess the profitability and market area, and choose passive or active investments depending upon the returns.
Those hoping for an active one can opt for residential investments, with large property options in mind, which can be more fulfilling. Investors can choose between direct or indirect investments, where direct ones involve people for managing properties, whereas indirect ones would hold fewer ones.
For investors willing to put in the effort, various property types can produce high-profit margins. However, given the variety of options available, many investors are likely to wonder what is the best real estate investment.
While this is a simple question, there is no simple answer. Many factors will influence the best type of investment property, and investors should be cautious not to rule out any possibilities when looking for potential deals. Our residential real estate report would offer valuable insights to help you decide the right kind of investment to be made.
Did You Know

According to the Economic Times Housing Finance Summit, about three houses are built per 1,000 people per year compared with the required construction rate of five houses per 1,000 population."
– Top cities to invest in residential real estate – Our residential real estate report states that several top towns highly invest in residential real estate, which is as follows:
Mumbai
Chennai
Bengaluru
Ahmedabad
Hyderabad
Residential property sales – City-wise segmentation, in thousand units, India.
The demand for the housing sector is expected to grow exponentially in the upcoming years. New housing launches in 2019 saw an 18-20% annual growth with over 2.3 lakh units.
Let us explore several property listings or residential real estate investments made across the cities in India. As per reports, multi-storey apartments dot the Indian residential landscape around 73%.
| | |
| --- | --- |
| Cities | Rental properties |
| Mumbai, Navi Mumbai,  and Pune | 49% |
| Thane | 67% |
| Kolkata | 41% |
West India comprising Mumbai, Navi Mumbai, Thane and Pune, has, on average, 49% rental properties in the 500-1,000 sq. ft bracket.
The graph depicts the average size of properties throughout 14 different types of cities. The towns and cities have been set up in descending order for the typical size of multi-story apartments for rent.
Average of rental yields by residential type across Top 14 cities in India
| | |
| --- | --- |
| Investments | Average yield |
| –        Builder floor apartment | 3.1% |
| –        Multi-storey apartment | 2.9% |
| –        Independent house | 1.7% |
| –        Villa | 2.5% |
The table below shows the average rental yield for each of the four residential types on a pan-India basis. The rental yields were calculated by dividing the current yearly rentals by the average capital values.

 Top locations to invest in residential real estate-  Chennai
As a result of population and economic growth, the country's urbanisation has accelerated, with the number of metropolitan towns and cities skyrocketing. This growth is expected to continue in the coming years. The top participants in Chennai's residential real estate sector are covered in this residential real estate report. Let us explore some emerging locations in Chennai that make the best residential real estate investment, which are as follows:
Porur
Old Mahabalipuram Road
Ambattur
Kolathur
Adambakkam
Choolaimedu
Pallikaranai
Certain micro markets have shown positive growth and have been a constantly growing interest from homebuyers and an appreciation in value.
Conclusion
The real estate sector is expected to grow exponentially in the coming years. This is the best time to invest in real estate, so plan ahead of time.
Several residential real estate trends in the upcoming years like growth in new housing supply, urbanisation driving the market that accelerated the population growth, and technology integration on a large scale has brought major changes in the residential investment sector. There is no denying that the residential sector is undergoing major changes with huge developments. Overall, investing in the residential real estate sector is a great time.