Blog summary
If you are looking for an apartment in Chennai, then you might have come across a BHK variant – 2.5 BHK. The .5 in a 2.5 BHK apartment is nothing but a smaller room than the other 2 bedrooms in the flat, often used as a drawing or a study room for kids. This can be very useful for your kid. This blog will discuss the importance of a study room in a 2.5 BHK for your child. Read on.
Introduction
Buying an apartment in Chennai has become a tough task as hundreds of apartments have emerged, making it all the more difficult for buyers to zero in on one. Builders today are always looking to offer their buyers more variety and options in apartments. The rise in the number of apartments in the city has taken a toll on the availability of space. This gave rise to the concept of the half bedroom. 
In this blog, we will discuss what is 2.5 BHK and further discuss the importance of a study room in a 2.5 BHK for your child. Keep reading!
What Is A 2.5 BHK Apartment?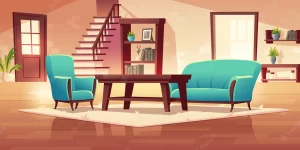 As discussed in the previous section, builders are looking to make the most out of the available space and provide homebuyers with the best possible residential spaces, along with amenities and facilities that will meet their needs efficiently. The congestion in cities due to the rise in the number of apartments has resulted in a lack of ample space that has posed a challenge for builders. This has given birth to the half bedroom. A utility space that it is, the half bedroom falls between the 2 and 3 BHK variants and is called the 2.5 BHK. 
A 2.5 BHK is almost a 3-bedroom apartment. Only the third bedroom is halved. So, ideally, a 2.5 BHK apartment comprises the following:
2 bedrooms

1 smaller room (that is the half bedroom)

1 hall

1 kitchen
The half bedroom or the smaller room is a utility space with multiple uses in the Indian household, including a store room, a pooja room, a drawing-room, and most commonly, a study room for families with kids. 
Setting up a study space for your child could potentially impact their education and learning in a positive way. Having an exclusive space for your child to study in is extremely beneficial. In the coming section, we will discuss the importance of a study room in a 2.5 BHK apartment for your child. 
Importance Of Study Room In A 2.5 BHK For Your Child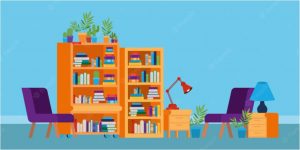 It was not uncommon for homes to have drawing rooms or the 'study' in the olden times. However, the trend existed predominantly outside India. In India, the rise of 2.5 BHK variants in apartments has paved the way for the drawing-room/study room trend. Today, many builders offer 2.5 BHK apartments, along with 2 and 3 BHK variants.
While the 'half' bedroom can be put to multiple uses, including storage room, pooja room, and more, it is most common for families with children to make it into a playroom or a study room. Having a dedicated study space can be of great help to your child. From putting them in the right mind space to study to cultivating a routine, the importance of a study room in a 2.5 BHK for your child is many.
1. Improved Concentration 
Having a dedicated space to study without any distractions or disturbances can actually improve your child's concentration. They tend to focus more on the lesson and absorb what's in the books better than when they study in the common area, surrounded by distractions. Improved concentration adds to the importance of a study room in a 2.5 BHK for your child.
2. Increased Efficiency
Another factor that adds to the importance of a study room in a 2.5 BHK is that it makes your child learn better. The whole setup of a study, the stack of books, pens, and other study materials, will automatically put your child in the right frame of mind and will help them get into the learning mode and make the most out of the study time and learn more efficiently. 
4. A Space Of Comfort 
A study room designed in a way that is appealing to your kid will also be a space of comfort for them. When the space has the things they love, they will be more drawn to and enthusiastic about putting in work in the study space. Studying out of a space that they find comfortable will help them focus and learn better.
4. Helps Create A Routine
The habit of studying and working on homework in a study room helps your child create a routine. The entire setup of the study room and the vibe it gives out help the child create a routine and cultivate the habit of sticking to the routine they have created. A study room enables your child to adopt healthy learning habits. 
5. Makes Them More Organised
Having a dedicated space to study helps the child be more organised in their activities. This is very important for one's life. They will know when it is time to study and will become more independent in getting their own work done. This will also lead to them being able to take up responsibility for themselves and be more organised with their things. 
These are some of the importance of a study room for your child. If you are part of a family with a child and are looking for an apartment, it will be very beneficial if you go for a 2.5 BHK. The half bedroom can serve as an excellent play area as well as a study room for your kid through their prime years.
Conclusion
If you are planning to invest in a 2.5 BHK apartment in Chennai, looking for the right builder that offers 2.5 BHK apartments for sale is very important. Tulive, from the house of GK Shetty, a 6-decade real estate company, is known to offer apartments that are a lifestyle upgrade for residents. They have projects at prime locations in Chennai.
Tulive BelleVue offers the best 2.5 BHK apartments for sale in Chennai. With tastefully designed and built homes and irresistible amenities, Tulive BelleVue is located in the heart of Valasaravakkam, a posh residential area in Chennai. The apartment complex in Valasaravakkam is 5 floors tall and houses 79 residential units. Amenities are state-of-the-art and include a double-height lobby, a gym, party hall, open-air kids' play area, and a landscaped seating area.
For more details, call them at 044- 71 64 6006 or visit their website.